7 strategies, tactics and tips to stand out. Plan your first 100 days on the job, as a new starter, to make an impact in your marketing career
Starting a new job can be tough. In the first 100 days on the job, not only do you have to contend with the technical side of your role but also your new employer's culture, politics, processes, and people.
The Trading Economics United States Job Openings report in March 2022 stated that US job openings hit a record high:
The number of job openings in the US rose by 205,000 from a month earlier to a series high of 11.549 million in March of 2022, above market expectations of 11 million, as work shortages persisted.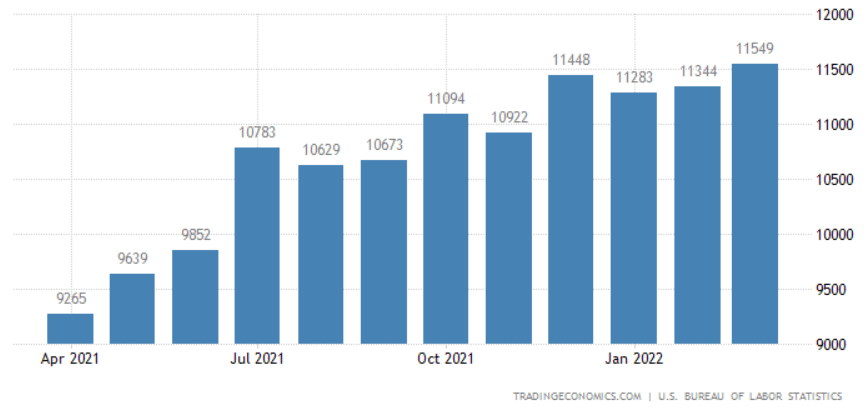 Meanwhile, in the UK, Job vacancies rose to a new record of 1,318,000 in the period from December 2021 to February 2022; an increase of 105,000 from the previous quarter with half of the industry sectors showing record highs.
With all these shifts in employment, it's likely many marketers will be starting a new role over the next few months, they're not alone.
In the US, a new president is often judged on how they perform within the first 100 days in office. Ever since Franklin D. Roosevelt passed 76 bills into law by his one-hundredth day, subsequent presidents have been held to the same standard. Whilst some dispute the validity of this standard for presidents of the United States, there is reason to believe that for new starters in the corporate world the first few months provide the best opportunity to clarify your responsibilities, learn about the company and ultimately integrate and succeed in your new position.
For marketers, the first 100 days in a new job can be particularly crucial, especially within digital where so much change happens so quickly nowadays. I'd, therefore, like to set out some key success factors for making the first three months in a new marketing role really count.
Set out your first 100 days on the job action plan
When you join a new company you have one chance to make a good first impression. It's therefore worth thinking about how you will approach your first three months and what you want to accomplish. It may be the case that your new line manager will provide a plan for you but it's always best to be proactive and go in with your own. Consider what you want to achieve by each milestone:
First day – Make a good impression
First week – Complete the first part of your induction process
First two weeks – Meet all key stakeholders and complete induction process
First month – Discover and learn about the business and role
Second month – Define the role and feedback to the business
Third month – Deliver Deliver tangible results
The above is only a guide and this will vary for different roles, disciplines and your own personal preferences. Consider tailoring this based on your own goals and ambitions for your first 100 days on the job. While you're at it, check out our marketing training to upskill yourself, and improve your performance.
Make a pre-emptive strike
It's likely that after receiving a formal offer to join a new organization the only interaction you will have had with the hiring manager and/ or select colleagues will have been during the interview stage(s). Interviews are by their very nature quite stressful and you rarely get an opportunity to have a more open, relaxed conversation about the role.
Once you have agreed on a start date, consider making the offer to visit the company and meet your new team before officially joining. I have found this helpful for a number of reasons:
Review the role
Identify key stakeholders
Clarify main challenges and opportunities
Meet your new team and colleagues
Understand the practicalities
Many of these areas can easily be covered during your first few weeks but getting an initial gauge can be helpful to ease nerves and anxiety before you formally start and being proactive shows initiative and enthusiasm.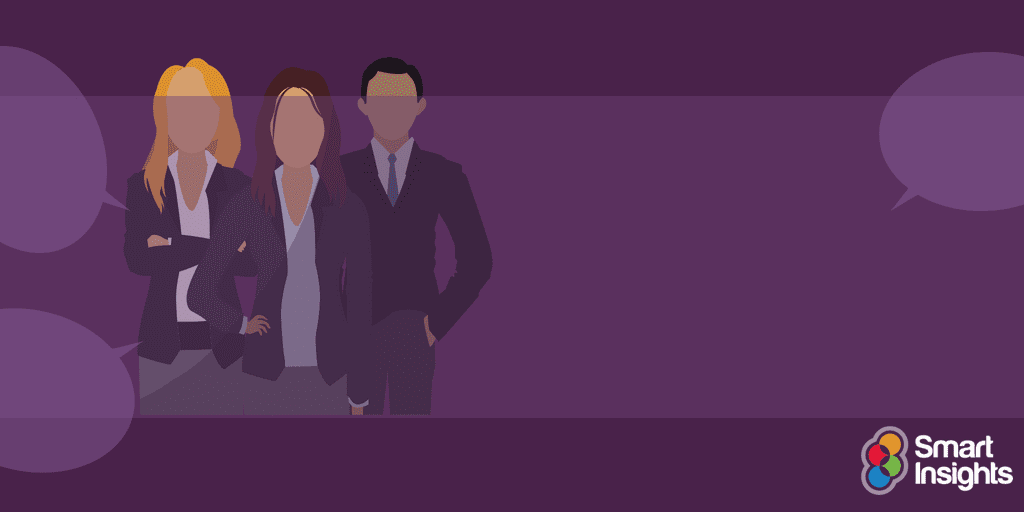 Plan your own induction
Induction programmes vary greatly across different companies. I have experienced first hand the good (pre-planned meetings with key stakeholders; company vision; department objectives), the bad (poor communication about the new role; patchy intro meeting attendance) and the ugly (told on my first morning by my new manager that they were heading out for a two-week meeting and 'good luck' getting started!).
Needless to say, it's always best to be prepared to take accountability for your own induction programme so that you get the most from the experience. There are a few things you can do before and after you start to ensure an effective induction process:
Before you start your new job:
Ask your new employer if there are any documents or company materials to review before you start
Review your job description and any additional information, including leadership behaviours, competency frameworks, and company values. Use this opportunity to identify areas of strength and development, all of which can be used to inform your induction programme
If you're taking on a people management position, ask for copies of job descriptions for each of your new team members and an organogram to build an understanding of what everyone does and how this fits together
Ask about what is planned for your induction so you know what aspects will be set for you and others where you will need to take action during your first 100 days on the job
Once you start your new job:
If you're not already aware, check out what is planned on your first day and who is responsible for organizing different aspects of your induction
Meet with the person/ people organizing your induction and cross-reference the areas you have identified so you cover everything off
If there are limited/ no induction plans work out how best to get the support you need. Meet quickly with your manager and other colleagues to find out who best to liaise with
Do not delay. Time is of the essence so aim to get your induction sorted within the first two weeks. If you wait any longer the likelihood is that it won't happen as you will soon be pulled into the detail of your role
Understand your environment
Your first few months will be key to establishing your credibility and a solid understanding of your new company's culture, people and structure are essential to your success.
There will be an 'official' and 'unofficial' way of working, e.g. what the company tells you about its culture and what you actually see and observe around you. It may be the case that these two align quite closely but often you'll find that there are gaps so make a note of what you consider to be important.
Be proactive and learn about the culture and the way of doing things. In the early days you have licence to ask questions so take the time to get a feel for the following:
Corporate strategy/ mission – What is the company's stated aims?
Corporate culture – What values and attitudes stand out? How do they compare or contrast with your own?
Company structure -Establish the formal and informal hierarchy. Who's who and who does what? Identify key decision-makers and influencers
Products and services – Regardless of where you work you will need to have a good understanding of what products and/ or services affect business performance
Jargon – Every company has its own specific language. Get to know key buzzwords and phrases ASAP!
Think critically about the skills and tools you need to start performing in your new role. Consider any channel-specific or strategy and planning training you may need to help kick-start your new responsibilities.
Create a stakeholder map
As referenced above, there is a structure and hierarchy to every organization, regardless of how informal or flat they claim to be. There will always be pockets of influence, authority, and power which is unlikely to be reflected accurately in any company structure chart or organogram.
The first few weeks and months is an ideal time to observe and create your own stakeholder map. You must transform into a business ethnographer and take in the culture, customs and habits of everyone around you and identify the teams and individuals you will need to partner with and form alliances to get things done.
Forming strong alignment across the board is a top trait of effective marketing leaders. This involves an astute understanding of others' needs and motivations and engaging others around a common goal. This can be achieved through careful consideration of stakeholders' motivations, interests, and position: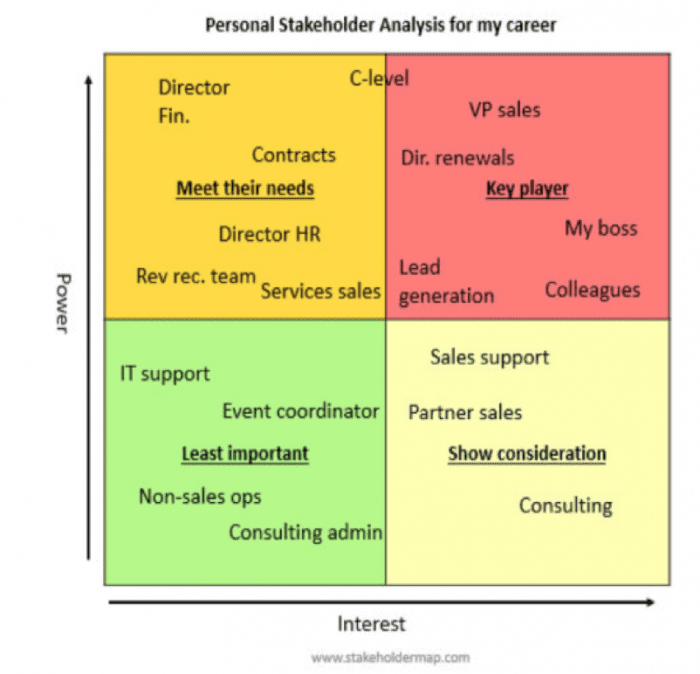 Secure quick wins in your first 100 days on the job, or fewer!
Achieving early successes is probably one of the most important and effective ways to establish credibility and build momentum, setting you up for future success in the months and years ahead.
The first 30 days should be geared around establishing credibility among leaders and your peer group whilst the last 60 days is where you will need to be generating tangible results. In the beginning, you will still be grappling to understand the business and how it operates but there will still be opportunities to prove yourself and make an impact.
Michael D. Watkins, professor and author of The First 90 Days, identifies three ways to secure early wins:
Establish 'A-item' priorities – these include the major objectives you must accomplish in the first 12-18 months. This will help you to determine goals for the first few months in the context of these longer-term objectives. By achieving early wins in these areas you can simultaneously move toward the longer-term goals
Identify a centre of gravity – this is the one key area or process where early wins are probable. This could be the launch of the company's new website or winning a major pitch for a new premium account. The chosen centre of gravity must be an area that is important and allows for substantial performance improvement
Initiate pilot projects – these are specific initiatives within the centre of gravity to secure early wins. Implementation plans for the projects should define the standards to be used, the resources needed and the methodologies to be employed, while specifying both tangible and intangible goals
Plan for the future
Although the first 100 days is primarily about refining the role, understanding business and establishing yourself within the organization, early on you should also start thinking and planning for the future. The quick/ early wins we covered above will hopefully give you confidence and momentum but before the end of the three months, you should also create a plan that identifies your longer-term goals, objectives, and ambitions.
The time you've spent observing and learning about the role will give you an opportunity to plan for the following:
Set SMART objectives based on 'A-item' business priorities
Establish relationships with key stakeholders (internal and external)
Build your personal brand
Identify personal development opportunities
Create your vision for the role